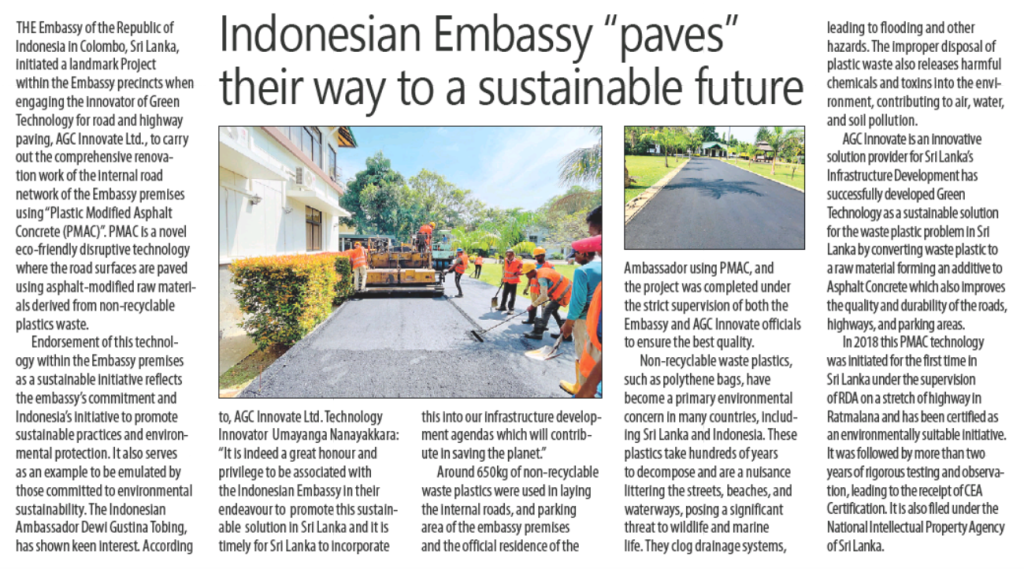 The Embassy of the Republic of Indonesia in Colombo, Sri Lanka, initiated a landmark Project within the Embassy precincts when engaging the innovator of Green Technology for Road & Highway paving, AGC Innovate (Pvt) Limited, to carry out the comprehensive renovation work of the internal road network of the Embassy premises using "Plastic Modified Asphalt Concrete (PMAC)." PMAC is a novel eco-friendly disruptive technology where the road surfaces are paved using asphalt-modified raw materials derived from non-recyclable plastics waste.
Endorsement of this technology within the Embassy premises as a sustainable initiative reflects the embassy's commitment & Indonesia's initiative to promote sustainable practices and environmental protection. It also serves as an example to be emulated by those committed to environmental sustainability. The Ambassador of Indonesia, H.E. Dewi Gustina Tobing, has shown keen enthusiasm in encouraging technology in Sri Lanka and highlighted the necessity of similar initiatives in Indonesia to keep voicing the growing issue of waste plastic pollution. Adding to this, Umayanga Nanayakkara, the Innovator from the AGC Innovate (Pvt) Ltd stated, "It is indeed a great pleasure to work in collaboration with the Indonesian Embassy to promote this sustainable infrastructure solution in Sri Lanka and I believe it is the high time we incorporate this into our development agendas which will also contribute in saving the planet."
Around 650kg of non-recyclable waste plastics were used in laying the internal roads, and parking area of the embassy premises and the official residence of the Ambassador using PMAC, and the project was completed under the strict supervision of both the Embassy and AGC Innovate (Pvt) Ltd officials to ensure the best quality.
Non-recyclable waste plastics, such as polythene bags, have become a primary environmental concern in many countries, including Sri Lanka and Indonesia. These plastics take hundreds of years to decompose and are a nuisance littering the streets, beaches, and waterways, posing a significant threat to wildlife and marine life. They clog drainage systems, leading to flooding and other hazards. The improper disposal of plastic waste also releases harmful chemicals and toxins into the environment, contributing to air, water, and soil pollution.
AGC Innovate (Pvt) Ltd. is an innovative solution provider for Sri Lanka's Infrastructure Development has successfully developed Green Technology as a sustainable solution for the Waste Plastic problem in Sri Lanka by converting waste plastic to a raw material forming an additive to Asphalt Concrete which also improves the quality and durability of the roads, highways, and parking areas.
In 2018 this PMAC technology was initiated for the first time in Sri Lanka under the supervision of RDA on a stretch of highway in Ratmalana and has been certified as an environmentally suitable initiative. It was followed by more than two years of rigorous testing and observation, leading to the receipt of CEA Certification. It is also filed under the National Intellectual Property Agency of Sri Lanka.
PMAC technology has been successfully used for more than three years in Sri Lanka by leading Supermarket chains such as Cargills for their car parks, Roads under the Western & Eastern Provincial Road Development Authorities, mega export-oriented factory yards, and leading business conglomerates such as John Keells Holdings who are focused on reducing the carbon footprint and bring a logical solution to terrestrial, riverine and ocean pollution caused by waste plastic.